Cover Photo provided by Kamikaze_Blargle - Revamped by v^3
Leagues
Build and Shoot Wiki
PUGs
Server Spotlight
July Map Competition
Maps
YouTube
Playercount
1.0 Map Editor
Bloopers, Memes, Comics, Misc
BnS League Season One - Finals
The last semifinal match took place on the 13th between Lines and the Komerades however it resulted in a tie! Who would have guessed! There will be a rematch in the future, if that results in a tie as well the stats from both games will be put together and the team will the best kill death ratio and most intel touches will be the victor to move up in the brackets and face head to head with The Bastion.
Check out
http://challonge.com/buildandshoot
for more info
BnS League Season Two - Regular Season
This weekend was full of a ton of league matches, seven matches in total. SturmStaffel pulling ahead early, finishing off the weekend sitting in a comfortable lead of 10 points.
Recap of the matches this past weekend
HOX vs ELITE:
HOX wins 3 - 0
TSB vs SS: TSB
wins 3 - 0
TSB vs HOX
ended in a 0 - 0 tie
ELITE vs OWN
ends in a tie
SS s HOX:
SS wins 1 to 0
SS vs ELITE:
SS wins 3 to 0
MUMZ vs AK:
MUMZ wins 3 to 1
Check out the
season two topic
for info on the rules, teams registered, scores along with screenshots and more.
Click
here
for more info on the scoreboard for season 2 of the BnS league
Build and Shoot now has a Wiki page!
We now have a Build and Shoot wiki at
http://wiki.buildandshoot.com
. The wiki will have everything you can think of and if you think of something that isn't on the wiki add it yourself! There are pages for the launcher, history on the community, utilities to hangout with your fellow Build and Shoot friends, all you need to know about script and server side configuration involving pysnip/ pyspades, and there are tutorials on just about everything BnS related, Once it is up to date it will be the goto information source. We need your help to add to the wiki, in two weeks at the latest will have all the information that we have stored, from that point on you can add anything to the wiki, and good content is encouraged. Follow the instructions below, and help us create the goto place for anything Build and Shoot related. Creating clan pages and BnS league team pages is also encouraged!
Code: Select all

To add a page change the http://wiki.buildandshoot.com/index.php?title=Main_Page to http://wiki.buildandshoot.com/index.php?title=PAGE NAME HERE then edit it to your liking.
Please note what pages you have added below in the comments so we can keep track of changes.
Join in on the Pick Up Games (PUGs) discussion. Pick Up Games will be competitive matches against any number of players, 1v1 through 16v16. PUG will be automatically created on request in IRC and will track player stats.
Click here for more!
Servers spotlight!
Server spotlights are for servers that have great moderation, maps, gameplay, or something else that separates it from the others. Don't be afraid if your server is not picked just try and improve and maybe you will get it next time.
Stormwind clan servers
hosted by: Cowie
This week's featured sever is the stormwind servers. The stormwind CTF servers features a lot of great maps and has a unique script which is the revive script. The script revives team mates that are killed by Tea bagging them. You can get health from the enemy team mates by tea bagging them as well. The server is also mostly hacker free and usually always has an admin or moderator on. Good job to the stormwind clan and its staff for having great servers. Play "-@Sw Stormwind Clan CTF Server-" here:
aos://2654540078:32887
July map competition!
Currently there is a map making competition going on. The rules are pretty simple; must be summer themed, give credit when due, must be your own work. Maps can be submitted until the 24th. Voting for the maps starts the 24th and ends the 31st. There are currently no submissions but there is a week left to get your submission in! Click
here
to learn more.
Maps
Golf v1.1
by: Influx
Golf by Influx is a very large map based off the Battlefield Bad Company 2 mission "Par for the Course" which features a fight on a golf course. The map has a lot of hedges and trees as well as small water hazards in the north and south sides of the map. In the south side you also have the store where you pay to play the course which makes a great choke point. A very detailed map that is great for TDM,TOW, and CTF. Good job Influx! Click
here
to download the map.
Old Villa
by: lelue
Old villa is quite a unique map. It has two versions; one with giant ants and one without. This is a big island map similar to isle of war but there are a lot of differences that I like. First off there is a lot of terrain. This makes it so that it's not a complete sniper fest like Isle of war. There is also a choke point, the house in the middle of the map. The house is very detailed too which you don't normally see in most maps. Lelue is becoming a great mapper. The map is good for TOW and TDM but other gamemode might work as well such as King of the Hill. Click
here
to download it.
YouTube
Grandy (TheGrandmaster, TGm) has made some videos of game-play and match videos from the Build and Shoot League Season 1. He also has made some videos before Jagex took over which was normal game-plays and clan matches. Grandy's YouTube account -
http://www.youtube.com/channel/UC0_SzH9QMXPteJyVgHan6xA
Example of one of his videos (Semi finals match)
Another youtuber with Build and Shoot videos is GamingFTW. GamingFTW has a series of videos even with other games, he also had videos before Jagex took over which were some tutorials which could come in handy and also clan matches. GamingFTW's YouTube account -
http://www.youtube.com/channel/UCgi3Sfo3cjx36ETMiSBf1Mg
Example of one of his videos (An episode from his series)
We would like to thank the community for its continuous growth we have now surpassed 25,000 members on the BnS forums! Congratulation deuces, with our success comes reward, we continue to stay ahead of 1.0 in player count. If anyone isn't already familiar with the 0.75 and 1.0 player count comparison graph check out
rakiru's player count graph
Jagex released a map editor for Ace of Spades 1.0 on Steam. It allows you to build new maps with or without friends and also supports conversions from Ace of Spades Classic maps and tools. It's currently in beta and available to everyone who owns the game, but you must opt-in to download and use it.
Click here
for details and instructions.
Bloopers, Memes, Comics, Misc
GreaseMonkey has finally did a refactor for Iceball that should have been done months ago. (Iceball blooper)
Submitted by GreaseMonkey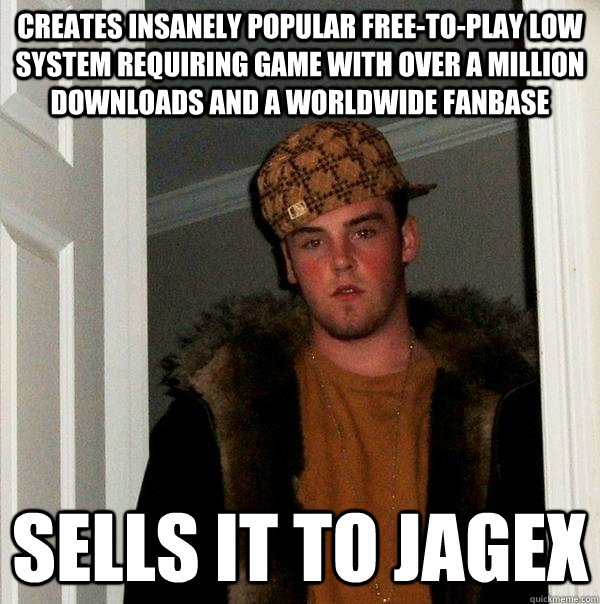 Submitted by Conduit
Another blooper for Iceball
Submitted by GreaseMonkey
Submitted by v^3
Submitted by TB